Question: Favorite crime movie of the past thirty years?
I'm not much for rules and it's hard enough to limit myself to talking about only one movie (I love movies and sooooo many come to mind with this question), so I'm going to break the rules and talk about a movie from 1952 that also broke the rules.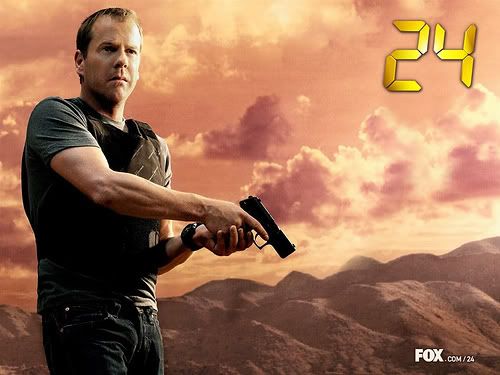 It introduced the concept of "real time" story telling--something never done before. Only instead of 24 hours like Jack Bauer, the characters in this movie only have 90 minutes to save their world.
It begins with high stakes--the entire world at risk. And breaking the rules of thrillers, it narrows those stakes until the only thing at risk is one man.
The badguy doesn't show up until 75 minutes into the 90 minute film. Breaking the cardinal rule of getting the villain on the page as soon as possible so that we can see the hero's character development as he strives to overcome the villain.
During the climax, the hero is saved by a girl--not just once, but twice!!!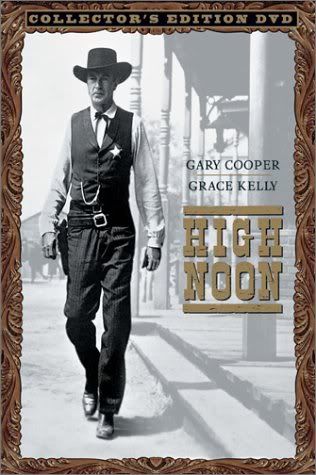 AND (as if breaking all those rules wasn't enough) the hero does NOT change! In fact, the hero, the actor everyone thinks of when they think of this movie, isn't even the main character!
Of course I'm talking about HIGH NOON.
Here's my take on it. Breaking all the rules of its era, HIGH NOON is also one of the first feminist movies.
Check out the madam, Helen Ramirez, played by Katy Jurado. No hooker with a heart of gold here. She's a smart, savvy business woman. Yes, she has emotions, she even shows them--but they don't rule her life. She's driven by the security provided by the all-mighty dollar.
And who is the REAL main character of HIGH NOON?
It's Grace Kelly's character. She goes from an upright, uptight Quaker confident in her beliefs and her husband to a woman uncertain, facing her worst fears as she watches her husband be the man he really is (as opposed to the man she wanted him to be) and abandoning her, to a true hero taking control of her fears and destiny by doing the one thing she never, ever, ever would have done at the beginning of the movie: kill a man.
But she does. Because unlike Helen she does change--and the force that changes her is her love for Will Kane (Gary Cooper).
The studio was smart to get a well known cinema hero like Gary Cooper to play the role of Will Kane. The audience of that time never would have accepted an unknown (it was only Kelly's second role) WOMAN as the true hero, not in a western, not in an era where John Wayne still ruled the silver screen.
But we can, can't we?
What do you think? Can a female hero pull off a movie as well as a guy? Why is it Hollywood execs are still wedded to the idea that the hero must be the man? Is it because they're entrenched in a way of thinking--or because their audiences are?
How about in books? Who are your favorite female leads?
Thanks for reading,
CJ
PS: A big shout out to our June contest winner: Mysti Berry!!! Your prizes are on their way, enjoy!
About CJ:
As a pediatric ER doctor, CJ Lyons has lived the life she writes about in her cutting edge suspense novels. Her debut, LIFELINES (Berkley, March 2008), became a National Bestseller and Publishers Weekly proclaimed it a "breathtakingly fast-paced medical thriller."
The second in the series, WARNING SIGNS, was released January, 2009 and the third, URGENT CARE, is due out October, 2009. Contact her at
http://www.cjlyons.net