by Bill
Do you like doing all the marketing, social networking, etc.?

This one is easy. No.
I mean, Yes.
I mean. Oh, bother.
Here's the thing. I've long felt marketing was one of those unseemly things we do which, while arguably necessary at times, is never something to discuss in polite company. It's like describing one's bowel movement at a dinner party. Seriously, save it for the doctor's office.
"And yet," you say (imagine your own voice), "Bill, I see you nattering on Twitter all day long like a nattering natter-monkey. And sometimes you post links in a self-promotional and/or marketing-y way. Surely this is in conflict with whatever it is you typed above."
Yes, it is. That is because I am a man Twisted by Paradox. And/or wishy-washy.
It was way back in Ye Olde Olden Tymes—my college days—that my deep and abiding crabbiness toward Marketing was born. I attended Miami University in Oxford, Ohio (no, not in Florida), which had recently been declared a "public ivy" by U.S. News & World Report because it had a strong business school. So the campus was filled with all these smug business majors and ruled by Baron Finance Professor and Duchess Accounting Professor and, of course, Lord Tyrant Marketing.
Gah, I wanted to throat-punch the lot of them.
As if that wasn't bad enough, when it came time for me—creative writing major—to get a job, guess what I found myself doing? Yeah.
Marketing
.
Which I have been doing for the last …
twenty … five … years
.
So.
Maybe I have a bias.
Personal feelings about marketing aside, I'm not naive. Obviously I would like to find readers. One doesn't work in marketing for
twenty … five … years
(sigh) without learning you don't reach an audience through dumb luck. Unless you are Justin Bieber. You have to make a targeted effort. You have to learn who the potential audience is, what kinds of messages it will respond to, where those messages need to be in order to be seen, etc.
Which actually brings up a problem with book marketing in particular. It's driven almost exclusively by two things: anecdote and just-do-everythingism.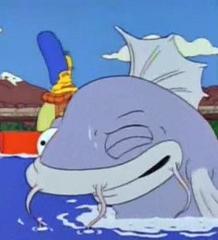 Anecdotes typically fall into the "
omigawd Random Bob did this and made a million dollars and if you don't do it too you will fail because you are insaaaaane
" category. They are the functional equivalent of Homer Simpson telling Marge the reason he has to catch the
giant catfish
is because those weirdos down at the bait shop said so. But we take these anecdotes seriously because, you know, some weirdo on the internet said so.
But in a way, getting our marketing techniques via anecdote is relatively harmless. You read a blog post and you try the "surefire" technique, and it either works or it doesn't. But if it didn't take that long or involve much grief, c'est la vie.
The Just Do Everything approach to marketing is far more insidious, because it demands huge investments of time and money with little evidence any of it actually works. Of course, evidence is beside the point, the argument goes. If you "just do everything," something is bound to work. And if it doesn't, it's your fault because you didn't do it right.
I don't know if marketing is taught this way today, but back in my public ivy days, the smug marketing majors used to talk about this thing called
metrics
. The way it works is you build up a body of data on the effectiveness of various techniques and when the data doesn't support a particular approach, you don't use it. And when you don't have data for a new approach, you set up tests and build a dataset before you go all in.
This isn't easy, nor is it guaranteed. Marketing is by necessity a fuzzy endeavor, involving as it does statistics and the ever-changing vagaries of consumer whim. But even a fuzzy discipline has a little rigor here and there. And yet, near as I can tell, that rigor is pretty much ignored when it comes to book marketing. ("If you don't do what Random Bob did you're
insaaaaaane!
")
Those weirdos down at the bait shop are not a dataset. They are a data
point
, and not a particularly rigorous one. (What's the control?) A blog post is also not a dataset. Nor are a single author's success or failure self-publishing to Kindle, or blasting the Twitterverse twenty times a day with a link to his special offer, or blogging her hangnail surgery.
And a person who spends 90% of his time on all manner of blatant and noisy self-promo isn't an author, he's a marketing drone who may occasionally write something.
So what am I up to on
Twitter
and on my
website
and, well, here? That stuff's marketing, right?
Here's my answer, the result of a rigorous testing regime which featured controls and focus groups and exit interviews, and which produced a prodigious mountain of data I analyzed in great detail whilst finishing a beer a few minutes ago. (Okay, the focus group was me, and the test subject was me, and the control was my cat, who is looking at me right now like I'm a huge disappointment.)
I do what's fun, tempered by not doing the things which annoy me or which I can't afford.
That's it.
So. I natter on Twitter with my friends. When I have a piece of genuine book-related news, I share it, but calmly and without a lot of spamalicious repetition. I send out an occasional newsletter (maybe once or twice a year). I write my blog posts here. And I take care of my web site. Since my day job involves web development, that last is the one which feels the most like work, but it's also easy for me, so it's not onerous.
Here is what I do not do: I do not sacrifice writing for marketing.
Why do I use this approach? Because I have no idea what works and what doesn't when it comes to marketing books, but I know what works and what doesn't when it comes to marketing books to
me
. The people who put writing ahead of marketing (and put writing ahead of their own celebrity), and who engage with their readers as fellow human beings are the ones who get my attention, and often my dollars.
So that's what I try to do.
And, yeah, when I stick with that, it
is
fun. Effective? Who knows? But at least it doesn't make me
insaaaaaaane
.