"If you won the Lottery, would you quit writing? If not, would the guaranteed income change how and what you write?"
I don't think the question is "would" I quit writing, but rather "could" I quit?
The answer is no. Not even with the help of a Twelve-step program. Writing is an addiction—I don't just want to write, I need to write.
It's how I cope with the world, how I explore new ideas, make sense of the daily insanity that surrounds us all.
Not going to give that up any time soon! Not if I want to stay sane--okay, that's up for debate, maybe I should say "stay as sane as I am now." (Stop laughing, Shane! You too, Kelli!)
Would I write differently if I was financially secure? Never thought of that before, but you know, I think I might. Buy a place with an ocean view, write while staring out at dolphins frolicking in the water….yeah, that'd make a neat change of pace.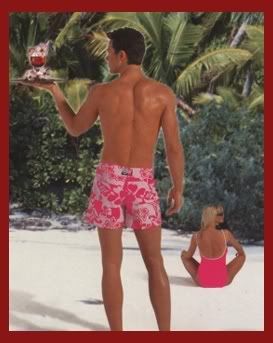 Or maybe learn to write while traveling all over the world, staring out at different dolphins frolicking in different oceans….oh, and cabana boys, lots of cabana boys….
But the topics I'd write about? They'd be the same—although with no financial need to earn income, I could maybe take more chances at less mainstream, commercially-viable work, not worry if it sold or not….
Although, honestly, that's pretty much my approach now. I'm a pretty fast writer, and if I have an idea I really want to explore, I'll write the book even if it doesn't seem marketable. I write first for myself, second for my readers, third for the income stream.
How would the work of famous authors depending on their writing for a living be changed if they were financially secure?
Would Charles Dickens be less wordy, learn to slice and dice his drafts into lean, taut narratives? Would Emily Dickinson be less suicidal—and would a cheerful Emily create poetry that stirred the soul and lives on through the ages?
What do you think? Would we have lost out on greatness if all writers were financially stable?
Thanks for reading,
CJ
About CJ:
As a pediatric ER doctor, CJ Lyons lived the life she writes about in her cutting edge suspense novels and has been called a "master of the genre" (Pittsburgh Magazine). Her award-winning, critically acclaimed Angels of Mercy series (LIFELINES, WARNING SIGNS, and URGENT CARE) is available in stores now with the fourth book, CRITICAL CONDITION due out December, 2010. CJ's newest project is as co-author of the first in a new suspense series with Erin Brockovich. To learn more about CJ and her work, go to
http://www.cjlyons.net