by
Kelli Stanley
Cynical, jaded, and world-weary, Miranda Corbie is NOT a joiner. Fiercely independent and suspicious of any group or organization--she's been a witness to mob violence and saw horrors beyond imagination in the Spanish Civil War, some sparked by religion, some by class antagonism, many by the cancerous quest for more power given solid form by fascism--she lives by a simple motto: trust no one.
When Pandora Blake, a young, starry-eyed model on the Gayway, is found stabbed to death with an anti-Semitic slur scrawled in blood on her belly, Miranda discovers evidence of a cult at work in San Francisco ... a real-life cult from real-life history.
They were anti-Semitic American fascists, and they were known as the Musketeers.
Thus begins CITY OF SECRETS, which releases in just twelve days.
America had a problem in the 1930s and early '40s, and it wasn't just the Depression. With the advent of Hitler and Mussolini, native fascist groups sprouted like deadly weeds in cities and small towns across the nation. They were particularly prevalent on the coasts ... and yes, even in progressive San Francisco.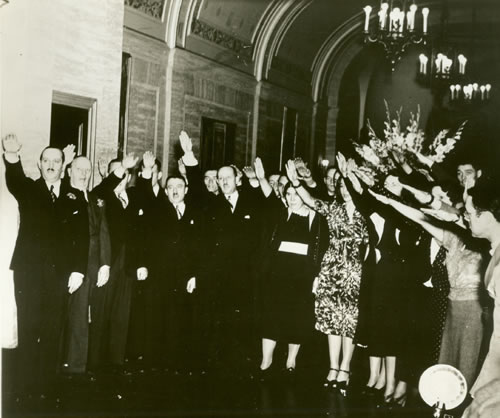 These bullys were not impoverished or illiterate or (technically) criminals. Most were middle America urban working and middle-class whites who believed the anti-Semitic lies and poison spread not only by Germany, but by American icons like Henry Ford. They didn't dress up in Nazi uniforms, like the German-American Bund, but they sometimes did wear insignia and costumes (like the Silver Shirts) and spoke to ladies' garden clubs and fraternal organizations. They raised money through the sale of hate literature, membership fees, donations, and sometimes through handouts from Germany. As the war pressed on without us, groups like the "Christian Front" actually planned acts of murder and domestic terrorism (they were, thankfully, caught by the FBI).
There were plenty of professional types in these organizations, too ... after all, this was the era of eugenics, and it was American scientists in this pseudo-science field who inspired Hitler to his Final Solution.
Many members of these groups would join the "America First" movement, and try to put political pressure on our government to not only stay out of the conflict, but to not extend aid to Britain.
In CITY OF SECRETS, Miranda becomes mixed up with the Musketeers, delving into eugenics, terrorism and murder, putting not only her life in jeopardy, but her very soul. How does she manage to infiltrate this cult of hatred and find the anti-Semitic killer of women in 1940 San Francisco?
Ah ... for that, dear reader, you'll have to wait for the book. :)
However, you do NOT have to wait to read "Memory Book"! This original Miranda story and prequel is available on
The Criminal Element for free
... and will be on sale as an e-book on September 6th.
You can also watch the book trailer for CITY OF SECRETS--which contains some footage from a German American Bund meeting--on YouTube.