At The Deep, Dark Bottom...
So what would my characters keep in their purses? Whatever it is, it would be at the bottom, mingling with change and the wrappers of candy eaten long ago. Maybe in the slightly torn lining so whatever they need is nearly impossible to find. At least that's where things are in my purse, at the bottom, under stuff, just out of reach. Much to my annoyance.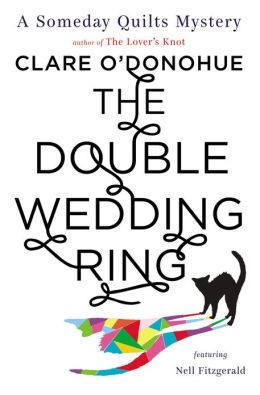 I like to think that Nell Fitzgerald, my main character in the Someday Quilts Mysteries, would be more organized. She's an art student, a quilter, the Nancy Drew of Archers Rest, her small hometown in upstate New York (a nickname she hates despite its accuracy). In her purse, along with a much used Archer Rest library card, Nell would have a hand sewing project in a zip-lock bag. Probably something of her own design. She'd also have a half-filled sketch pad and pencil for those drawings on the go she likes to do. She'd have a lipstick in case she runs into Police Chief/boyfriend Jesse Dewalt. In one of the pockets, she'd have a frequent customer card for Jitters, the coffee place across from Someday Quilts, the shop where she works. Nell likes to stay caffeinated so that card gets a workout. And, because Nell never met trouble she didn't want to get into, she'd have a digital tape recorder, a smart phone with the camera ready, and a nail file that could pick a lock in case she got locked in, or out, of a crime scene. Oh, and the ladies of her quilt group on speed dial, because they're her partners in crime solving.
Nell lives in a world of what I like to call "step over the body" mysteries - where murder may be serious, but it doesn't spoil the mood for romance or friendship. That's a bit different from the heroine of my Kate Conway Mysteries where the deaths hit hard - and sometimes close to home.
Kate's a TV producer of true crime shows, lives in Chicago, and is still dealing with the death of her husband, Frank. And there's Vera, the woman Frank left her for, who wants to be Kate's best friend. (Yeah, Kate hates the idea). Kate doesn't want to solve mysteries, spend time with people, or frankly, do anything but watch TV and eat take-out, but things don't work out that way.
Her world isn't as kind or easy as Nell's and her purse reflects that. She's got too many credit cards with balances on them. A smart phone with the numbers of dozens of production companies, police officers, lawyers, and various contacts from the shows she's produced. She's also got a burner phone, so if she interviews criminals she has a number to give them that won't be traced back to her. She's got receipts that need to be expensed, and reminder notes from her sister about family events Kate would prefer to miss. And in the small, zippered pocket at the back, a photo of she and Frank from happier times. Kate doesn't look at it, but she likes having it there. Most importantly, she has snacks for her favorite camera crew - Andres and Victor. There's nothing more important to a producer than a happy crew.
Except a paycheck. That, sadly, she doesn't have in her purse. Not until she finishes the show she's working on. The one in which a murder just happened.