No, I'm kidding. Sort of. I mean, some of us dads are conditioned to expect to hate our gifts from the years of socks and ties and pictures from the kids that we had to try to decipher to avoid breaking a young heart.
[Peering at the drawing] "Is it.... a spider? A horse? Oh, I see, it's a car. No? A building? Really? I mean...oh, yeah, of course. I see it. Great building, kiddo."
To hell with that. Get your dad something he wants, and that you can afford.
I'd like to say you can't go wrong with a book, but we all know how untrue that is. When people ask me for a recommendation, I do what you probably do -- ask them what they like. I'm not going to recommend a Parker or
Grofield novel
to a cozy reader, or
Pane and Suffering
to someone who counts
Pulp Fiction
as a top ten fave.
That said, here's a few ideas for crime novels in few different sub genres and all kinds of different dads.
NOIR/HARDBOILED
Maybe your pops is rough and tumble, or at least likes his fiction that way. If that's the case, I'd say go for
Charles Salzberg
's
Second Story Man
. It's the only book I've seen with three protagonists that all have a first person point of view. Two cops and a master burglar. Salzberg captures the distinct voice of each, and makes it hard to know who to root for.
If you want it southern, you could give dad
What We Reckon
by
Eryk Pruitt
. This one gets pretty crazy and then goes even farther. Drugs in a hollowed out King James bible and... well, what more do you need to know after that?
Eryk pops up
on my podcast
, and he's a funny guy. Check it out.
If you want to go old school, there's always
Lemons Never Lie
by Richard Stark (nee Donald Westlake). Known more for his Parker novels than his Grofield ones, Stark still gave Alan Grofield the lead in a few books. The erstwhile actor and thief isn't as tough as Parker, but he might be more of a thinker. Whereas Parker novels are full of tension and action, Grofield entries have a little touch of humor, too.
COZY
Maybe your dad is exactly the opposite. Maybe he likes cozy crime fiction. If so, why not get him
Pane and Suffering
by
Cheryl Hollon
. Part of her Webb's Glass Shop series (see how that title thing works...?), it has an amateur sleuth and a dog in it. Do you need to know more? No, you don't. It's kind of like the King James Bible thing.
Or there's
Libby Klein
. Now, I have to confess -- cozy isn't my thing. But I met both Cheryl and Libby at Left Coast Crime in Vancouver in March of 2019, and was impressed. Libby was one of the funniest people this side of Catriona MacPherson, and she's operating without the advantage of an awesome accent like Catriona has. So it's impressive, is all I'm saying. While I have not yet read her
...Can Be Murder
series, I'm willing to give it a go, because if she writes half as funny as she is in person, it'll be a gut buster. The one she talked about at the conference was
Class Reunions Can Be Murder
, so that's my recommendation.
POLICE PROCEDURAL
Okay, this is right in my wheelhouse. My own River City series is procedural, and so is the new book I wrote with
Colin Conway
,
Charlie-316
.
So I'm going to start with Colin's first book in his
Crime Stories of the 509
series,
The Side Hustle
. So far, it's the only one released, but there are several about to follow in short order. What's cool about this series is that while there are recurring characters, the focus and the narration shifts around considerably. For instance, the main two cops in
The Side Hustle
, Delaney and Burkett, become minor, supporting characters in
The Long Cold Winter
, and secondary characters in
The Suit
. It's an interesting approach that gives the author a lot of latitude for storytelling, and variety for the reader to enjoy.
In
The Side Hustle
, a prominent financial blogger dies from an apparent fall, but both the cops and his good friend (another blogger) come to believe there is more at play. Conway's procedural is rock solid, and he introduces some components you don't often see in books like these.
Plus, it's free. Yeah, free in the same way that first rock of crack cocaine is free, but it's still free, man. Can't beat that.
You like more of an East Coast feel? Okay, then how about the procedural series
Penns River by Dana King
? Set in a small town near Pittsburg, PA, this series follows a main character, Doc, through a variety of different cases. If your dad digs the "howdunit" element of a procedural, this one's for him. The most recent is
Ten-Seven
, but you can start anywhere in the series and be fine. Dana is another alumi
of the podcast
.
Old school? Get him some
Joseph Waumbaugh
or
W.E.B. Griffin's Badge of Honor series
. Can't go wrong with any of either one of these classics. Every former cop writing today owes a debt to Waumbaugh, and Griffin does a fantastic job of exploring everything from the street to the mayor's office, even before
The Wire
was doing it (though, admittedly, the show did it even better).
AMATUER/PI
If Daddy-O likes his investigators private, he's in luck. He can feast on
Lawrence Block
's classic
Matt Scudder series, which is something like eighteen novels at this point. Scudder, a disgraced cop who works as an off the books PI, remind me somewhat of James Garner's Jim Rockford without quite as much sarcasm. He tends to use his brain, embraces his subconscious, and can mix it up if he has to do so. Also, he's a drunk for the first several books, and a recovering drunk for the rest. Scudder ages in real time as the series progresses, which adds an interesting element that I like, even though I find it melancholy.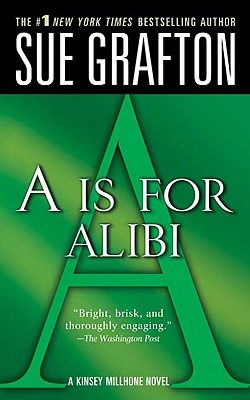 The series starts with
The Sins of the Fathers,
which is very good but not the best of them.
Want a female PI? Good old Kinsey Millhone is your woman.
Sue Grafton
penned alphabet themed series, starting with
A is for Alibi
, and made it all the way to
Y is for Yesterday
. Millhone is a great character, and Grafton's mysteries are fun to unravel. They're not quite hardboiled, but definitely not cozy.
As a male reader, I like Kinsey because she was tough, but in a very realistic way. She could be tough physically, but most of her toughness was mental, born of tenacity. If Dad is someone who has trouble identifying with female leads, Kinsey is a good place to start.
Grafton has unfortunately left us, but what a great legacy to leave behind.
URBAN FANTASY
Okay, this is Dad we're talking about here, so no glitter vampires. But maybe the supernatural is something your dad digs. If you want that but within some semblance of crime fiction,
Kat Richardson
's Greywalker series fits the bill.
Greywalker
is the first, and the premise is simple. PI Blaine Harper has a near-fatal accident, and when she recovers, she develops the ability to see and move through the nether realm. She encounters ghosts, werewolves, and yes, even vampires.
Kat Richardson is hella smart, and a cool person. She came
on my podcast
a while back, so give it a listen.
SCI-FI
Slightly different category. And for that, I go back to my friend, Kat Richardson. Writing as K.R. Richardson, her sci-fi noir novel,
Blood Orbit
is a good option.
Set in the future, this one has an investigator, a mass murder, a conspiracy, and a all-powerful corporation, and.... well, we're back to the heroin in the hollow-out King James bible again, aren't we? I mean, I should have had you at
sci-fi noir
... if strains of the Vangelis
Blade Runner
score aren't tickling your mind's ear right now, I don't know what to say. I'm sorry?
Even if you don't like the idea, Dad will. He liked your building picture, didn't he?
SHORT ATTENTION SPAN?
If your pops has a short attention span, maybe a novella is more his speed. For that, you could give him
Cleaning Up Finn
by
Sarah M. Chen
. It's about a bartender whose pecadillos with young women lands him in one trouble one fateful night....
Or
S.W. Lauden
's
Crosswise
is another good option for a novella. Former cop turned security guard Tommy Ruzzo encounters a mystery at the retirement community he patrols. I know it sounds like it, bu it's
not
a cozy.
Both of these novellas were nominated for an Anthony Award. And
Sarah
and
Steve
have been on my podcast to talk about these exact books, if you want to learn more before buying.
CONCLUSION
So that's it. Yeah, I know, I skipped historical crime fiction, and probably some other stuff, too. But if none of these recommendations grab you as being better than socks or a terrible tie for Dad, then do this: Click on any or all of the 7 Criminal Minds authors and cruise around our personal websites. You'll find every manner of crime fiction there, from noir to cozy to historical and back again. Several of us have multiple series in multiple subgenres. There's a lot to choose from.
If your dad reads, you'll find him something.
If he doesn't read, YOU find him something. Maybe he'll read it and love it.
Either way, it's better than socks, right?
Happy Dad's Day.
Blatant Self-Promotion, brought to you by me
The aforementioned
Charlie-316
comes out on June 10, 2019, in plenty of time for Dad's day. I'm pretty stoked about this one, folks. It may well be the best book I've written yet, and I think you'll like it.
Our own Jim Ziskin said about it: "A hard-hitting police conspiracy tale turned on its head, CHARLIE-316 bristles with authenticity and rich detail. Conway and Zafiro deliver an engrossing socio-political drama that packs plenty of action and intrigue, while asking the difficult questions. Corruption, conspiracy, and compromise frame the downfall of a perfect cop. And Wardell Clint is the most nuanced, fascinating detective I've read in a very long time.
This one tackles tough issues and will leave no reader indifferent. Compelling."
Trust Jim.